Our Service
With the help of technology and expertise in the field of Fire & Risk, we have a wide range of products and services that can be used by variety of businesses, including Property, Industrial Facility, and Insurance.



Digitalization is imperative for all types of industries, and risk management is one of the key component for any businesses that needs to be conducted eficiently. This why we offer our expertise in tech-based risk management, consulting, and data processing. This includes, but is not limited to system development and special applications to solve problems from the principle, related to fire and operational risk.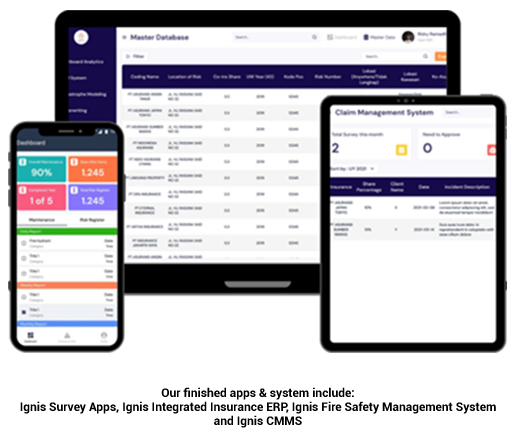 Tech-Based Risk Management

We offer a holistic approach of IT system and apps development, from customer pipeline system, to system developments for underwriting purposes, CMMS for maintenance, or risk database system.


Tech-Based Risk Management

• Customer Pipeline and Onboarding System
• Risk Database & Risk Register System
• Underwriting Insurance System
• Automated Policy Administration System
• Claim Management System
• Corporate Risk Management System CMMS (Computerized Maintenance)